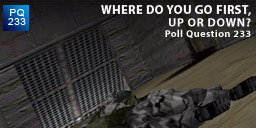 So, as I was playing The Xeno Project and I reach a point where I had two routes; up and down.
Since the mod was just starting and I hadn't been conditioned to believe one way was better than the other I was "free" to choose.
Now, what I mean by "free" is that I hadn't already gone down lots of times in the same mod and been disappointed, same for going up. At this point in the mod I had no other information as to which would be better than whatever I felt like.
There were no obvious visual clues, lights, signs etc, same for sounds, so there was no way to know which was better.
Of course, this often happens within Black Mesa style mods but normally for left and right and most times both directions lead to exactly the same spot.
Whilst it is possible up and down could lead to the same place it's very unusual.
Individually, these choices are almost meaningless because we can simply reload a previous save and try the other, but when viewed as statistics they could be useful for level designers trying to "encourage" players to go one way before the other.
Generally, I go down first because I feel that most of the time my objective is higher and I might move onto the next level and not be able to go back.
Perhaps you just decide randomly, or at least you think you do, maybe you have been "encourage" by subtle means?
What about you where do you go first, up or down?
The Poll