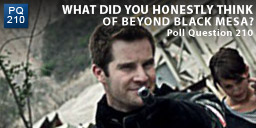 This post contains strong and forceful language.
In addition, I hold nothing back concerning my deeply held beliefs about Half-Life.
If you are easily offended, I suggest you give this post a miss.
YOU HAVE BEEN WARNED!
In the highly unlikely event that you haven't seen the short film that this poll is discussing, please do so now, it's called Beyond Black Mesa.
Tomorrow, Podcast17 has an interview with the makers of the film and initially I planned to be in on the kill, and let me be clear, that's how I felt my role would be.
These talented but pretentious film makers have taken something we care deeply about and raped it and I wanted to ask them some serious questions. That's not to say that the interviewers on P17 won't, I just like to stick my nose into everything.
Responsibility
Every artist that takes an exisitng IP, idea, vision, concept, whatever you want to call these things, and uses it to make something themselves, has a responsibility to that idea. If somebody made a mod for Half-Life 2, where you played a citizen who encountered Gordon Freeman, and GF suddenly turned to the player and started rapping East Coast style, we would rightly be saying "What the fuck is that?".
With regard to BBM, the most obvious departure from the HL world is the Combine Soldier who suddenly decides to pull out a Ninja sword. For crying out loud, what fucking idiot thought that that would be a good idea? Did they honestly expect all the Half-Life fans would be cheering?
Geez, that would like Frodo whipping out a Jedi Lightsaber!
Sure, it's fun to imagine stuff like that, but that sort of thing should be done with your friends for "shits and giggles", not, in what I believe was supposed to be a serious fan movie.
We've been used
In fact, I can't believe that the producer of this movie is a real fan. How can anybopdy who describes themselves as having a "passion for Half-Life" include that?
I'll go as far as to say that I wouldn't need much convincing that the producers have used the Half-Life franchise to unfairly promote their film.
Let's be honest, how much publicity would this film be getting if it wasn't connected to HL?
The film
For me, the film lacks substance. Yes, stylistically and technically, it's excellent for a amateur-made short film, but when you base it on a conceptual universe it needs to "feel right"? And at no point did it feel right to me.
If you took all the obvious references out of the film; the lambda symbol, the aperture science logo on the PC case, the Northen pertrol logo on the wall, the mask of the metrocops (which seem like hamsters with nuts in the cheeks to me) and finally, the distinctive grenade colour and sound, what exactly are you left with that is essentially Half-Life?
I would be hard pressed to actually define Half-Life (and that's next week's poll question) but I haven't made a movie that is supposed to be set in the HL world. To be true to the original, I believe that a viewer should, assuming they a fans of the Half-Life franchise, instinctively know that the film was set in that universe.
Just another crazy fan
I have little doubt that thousands of non-fans would read this and not understand what all the fuss is about and why people like me take it so seriously. But you only need to have been visiting this site for a short time to know that I don't like it when people take liberties with the basic concepts.
Fan fiction has really taken a leap in terms of scope and ambition in the last 5 years. You only need to see what some film groups have doen with Star Wars and Star Trek projects, but in all the cases I have seen, then stayed within the limits set by the original. Star Wars films don't include "beam" technology and Star Trek films don't have Jedi mind tricks.
The zombies also need to be mentioned. Since when have Half-Life zombies been fast? Never. Yes, putting Headcrabs on their head would have been a ton of work, but adding zombies it didn't add to the "feeling" that this is Half-Life. There are a thousand zombie movies out there but I don't think of Half-Life every time I see them. Why? Because HL zombies are zombies for a reason – those headcrabs. If you can't include them, and I fully understand the reasons why they didn't, then don't include some half-assed version either. That's no better than bad headcrabs, in fact it might be worse.
The devil is in the details
I want to watch the movie another ten times and list each and every departure from the Half-Life universe, but what would that really accomplish? I might feel better after having written another 500 words, ripping to shreads the concepts used but the film has been made and released. My only hope is that doing something like that would stop other film makers from abusing the creativity that an inexpensive hand-held camera allows them.
What about the film?
Now, putting aside direct references to the Half-Life universe, let's look at the actual film. I'm confused. Was the narrator the character we saw on the screen? I got the impression that he ended up helping the asian teletubby guy to broadcast a message from Sheppard – which was itself a little too Terminator 4 for my liking.
Why didn't the metrocops just kill them when they had the chance? Why did the main characters spend the first 95% of the movie looking very carefully around corners only for the final scene for them to just look the other way and rush out into the open?
Why did the metrocops not see the grenade by his feet, or at the very least hear it?
Technique isn't everything
All through the film I got the impression the film makers had said "Okay, what "effect" can we use here?" By effect, I mean film making style or device to scare, shock or thrill the audience. Just because you can do something, doesn't mean you should. I felt, and still feel, that the film makers were trying to show off their abilities first and foremost not actually tell an interesting Half-Life story.
Twelve minutes isn't very long to do that and obviously they wanted it to be action-orientated, but having all those pretty people running around, avoiding a lot of enemies was just silly. I mean, two guys standing around and a hot chick comes running between them and they turn to look at each other and then from where she has come from – come on, that's Buster Keaton type stuff.
Regular readers will know that I have a deep belief that beta testing for mods is an essential process. Screenings for movies probably have a similar function. Did the film makers actually screen test the movie to "real" half-Life fans? Do they honestly care what we think? I doubt it. We've been used to further their career as coldly and heartlessly as the Combine have used Earth and its people.
No "real" Half-Life fan would have made a movie like this.
My Questions
Here are the questions I have submitted to Podcast 17 in the hope that some get asked…
How many times have you played all the HL games?
What's your favourite HL game?
What is you favourite SP and MP mod?
How did you expect the fans of HL to react to your departures?
If you took out all the obvious references to HL, what is essentially HL in the film?
Did you screen test it with serious HL fans?
How do you respond to the criticism that you have cynically used the HL universe solely to promote your film making, not because you love HL?
Did you make any money from this project?
Why did you only use pretty actors?
Was the main character supposed to be Shepard? If yes, why?
Based on the feedback and your experiences making the film, if you made it again, what would you do differently?
I am sure the interviewers at P17 have a long list of questions too, so that's enough. If you are curious, the first three questions are there to try and establish that these people aren't real fans.
The Poll
Okay, it's time to get voting!