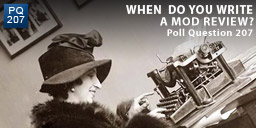 This is the second in a short series of polls related to reviewing mods. Last week I asked How many times do you play a mod before reviewing it?, this week it's about the delay between playing and writing.
I always promise myself that I will make notes during a long mod, so that I don't forget anything or if I am feeling really ambitious I even promise to start writing the review AS I am playing it, more of a playing diary, than a simple review.
Alas, I suffer the same Jerome K. Jerome's affliction, that of idleness, and all my plans fall by the wayside once I start playing.
Perhaps the new year will bring about a small change in that regard but I doubt it. I do, however, need to write my reviews as soon after finishing the mod as possible otherwise the few interesting things I may have to say begin to fade, like a dead NPC.
I am very interested to hear how you write your reviews and perhaps I'll try some different methods. My trouble is that readers now expect my review to appear first which could me a delay in posting the mod if I don't write the review immediately.
So, how long do you normally wait until you write your review? Do you follow a particular regime in regards to writing reviews?
The Poll