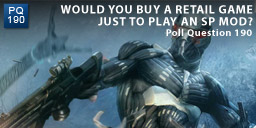 A comment on this week's Podcast17 got me thinking about the connection between retail games and mods. Many times I have heard of people buying retail games so they could play multiplayer mods; Counter-Strike and Team Fortress are the obvious examples, but I am sure there are others. However, I've never heard of anybody buying a retail game just to play an SP mod.
At first glance, the reasons seem obvious; most SP mods are very short in comparison with MP mods and they are generally set within the same universe. Who is going to pay 20 or 30 Dollars just to play for a few hours with the same style as the real game? Not many I suspect.
Putting aside any technical issues for a moment, imagine a group of modders created a Half-Life 2 styled mod in the CryEngine. Would you buy the game just to play the mod? What about some fantastically detailed and thoroughly tested Total Conversion? Something not in the HL or Crysis universes. Would you buy the game just for that?
I probably would, but the chances of it happening are pretty slim. Nobody is going to spend all their time converting the models and textures into the new format when they can just use the same engine as the original game.
That is unless Valve make updates that stops most mods from working. BUT WAIT! Didn't they just do that? Hasn't Lord abandonded EOTS2 because of all the trouble with Source? Yes. And I wonder how many others have done it but not announced it.
I love Half-Life mostly because of the story. The gameplay is great, the graphics are fine, everything else is up to scratch but if I can't play the mods any more I would have to look elsewhere and I suspect many other players would too.
I can't help but wonder if Valve are trying to diversify to quickly and too widely. I've never really looked else where but if Valve don't fix all the trouble with Hammer and modders stop using the the tools I won't have any choice.
I almost wish somebody would build a Half-Life 2 mod in the Unreal UDK!
So what do you think, Would you buy a retail game just to play an SP mod?
The Poll