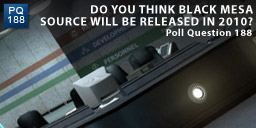 There's been lots of talk about the Black Mesa mod this week and it reminds me that not too long ago they said it would definitely be released before 2011.
The recent preview on Atomic Maximum Power Computing shows that a lot of the game seems finished, although I haven't actually read the article because I want to be surprised.
There seem to be lots of people who think it's another Duke Nukem Forever but I can't see that happening with this, can you?
The Poll