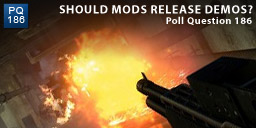 I originally used to believe that the bigger mods should release demos. I viewed things from the perspective of retail sales. A player is a customer and a mod a product. Players "pay" for their mod by the time and effort of downloading and keeping up to date.
To convince players that they should play a particular mod, a demo could be used to show how good a mod is. I no longer believe that's true.
I now believe that players will try anything and the time and effort put into releasing a demo is better spent making the final product better. A crappy demo won't stop anybody from trying the final product, unless the final product is crappy, in which case the demo was just as wasted as if it were fantastic.
I suspect that modders want to have a little "pat on the back" for all their hard work, especially since a big mod is the longest commitment that some young modders have made in their life, it can be easy to lose focus and motivation.
I also suspect it's in lieu of a real beta testing programme.
Let's not forget that a great demo doesn't necessarily mean the final mod will be great either.
Demos are useful for convincing me to try a game that costs money, because I am highly unlikely to buy it otherwise, but for mods I am struggling to see the benefits to the player. As mentioned above maybe it helps the modders keep working but that should be addressed in other project management ways, not by releasing demos.
As you probably know Wilson Chronicles released a demo this week and it seems to have been well received. I haven't played it because it's from about halfway in the mod and why would I want to spoil the surprises?
You could argue that modders could make new levels just for demos, but that's an even bigger waste of time, because that effort should be put into the game.
So, if you are in favour of mods releasing mods, please tell me how you think we all benefit. Unless you just want something to play because of the current shortage of mods, which is just selfish. Shame on you.
Please don't misunderstand me. Wilson Chronicles looks great and I look forward to playing the whole thing, I just can't see a reason to release a demo, can you?
The Poll