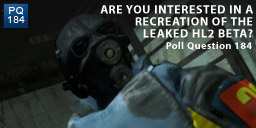 Each month seems to see the announcement of a new mod whose objective is to release a recreation of the leaked beta.
The four I have heard of are: Project Terminal, Beta Source, Anonbeta mod and Missing Information.
Seems a shame that so many people are working on more or less the same thing when they could be A: working together (although that's a lot easier said than done) or B: working on something original.
Obviously a lot of people love this sort of thing but are players really that interested? You tell me.
The poll
Update
You might find these mods interesting: