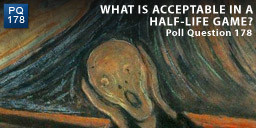 Last week I asked Would you play a mod that was purposefully trying to be offensive? and naturally the discussion touched on what is and isn't offensive. So this week I have decided to allow that discussion more freedom.
Let me start by saying that personally none of the items in the poll are acceptable for me in a HALF-LIFE game. I am not saying that they shouldn't appear in other games but that I don't think it's suitable/acceptable in a Half-Life game. Valve have worked hard to set a certain tone within the games and focus on other elements rather than simple shock value and for that I am glad.
However, the Half-Life games are a combination of obvious shock AND conservatism. You can chop a zombie in half or let him burn in agony but nobody says "Fuck, here come the Combine!". Some things are off limits but others aren't. I have little doubt that these were concious decisions by Valve but sometimes it's hard to justify to people I play a game where killing is acceptable but swearing isn't.
If you take a few moments to think about the situation described in Half-Life 2 and the episodes, it's quite desperate and we all know that when humanity is under those kinds of pressures we don't always leave a good account of ourselves. There's no need to give real examples, but I am sure every nation has events in its history it would rather forget.
I can honestly say that if I were in the situation described in the games, my behaviour might not be so pure. Perhaps in many ways Civil Protection AKA MetroCops would get the worst of it as they are often seen as traitors and defectors. If I had a chance to extract vital information out of one of them that could save just one individual then I might do it.
Think about it – you are fighting to protect the human race!
But as I said earlier, this is just about the HL games, not other games, not mods but the games that Valve releases. For some reason I want a little separation from a possible reality, otherwise the whole thing might be too depressing to actually be entertainment for me.
One last point about the choices in the poll. Please try and put them in context. Imagine that each and every one was part of the game and used in order to reach an objective. The rape scene would be to illicit aggression in the player and "force" him into a run and gun sequence. The beatings and torture to get information.
That said, I can't ever imagine a reason to participate in rape, unless you concocted some undercover persona that had to prove themselves within a group. Does saving others excuse raping one person? Very tough questions and that really goes above and beyond the topic we have here but it's part of it.
The point I am trying to make is that the actions described in the poll should be seen as part of a realistic representation of what might happen if the situation were real.
I want to reiterate that I don't want to see ANY of the actions listed in the poll in a Half-Life game EVER. In fact I don't want to see any of the actions in ANY game, but that's not what THIS poll is about.
What do you think?
A quick note about the poll voting
I have allowed voters to select as many options as they want. However, if everybody chose top vote for none of the options, the poll would be empty and look strange. Therefore I have added two other options. One that says "NONE OF THE OPTIONS" and the other that says you voted. I added the second one, so I can see how many people voted. Some voters may select one option, another voter may select all and I would never know how many people voted and I think that's important.
The Poll