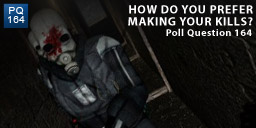 I suppose this could depend on the enemy in question but if I think about it I always prefer to take out my enemies from a distance, especially Hunters! Maybe that's why I love the crossbow and grenades.
Perhaps, it's related to my skill level? If I were a better player "up close and personal" then maybe I would enjoy it more. Being able to circle an enemy while whacking him/her/it with the crowbar is not something I am particualrly good at. It might be as simple as more practice oir maybe it's a personality thing.
That idea has always interested; whether we could do personality tests based on your playing style in certain situations. What exactly does "prefering to stick a crossbow between their shoulder blades at 100 metres say about me?
The Poll