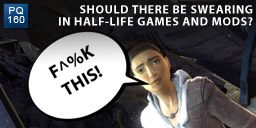 This week's poll is taken from the discussion from Outpost 16 where Alyx says "fuck". Initially the discussion started out as to whether it was out of character for her but quickly moved onto whether it fitted the HL universe.
I am torn.
On the one hand I dislike swearing in games. I am not sure why because it doesn't bother me in movies, TV or real life. In fact, when Alyx says "Jesus" in one of the episodes I flinched. It was a natural expression, although I never use it personally, but I wonder why it wasn't edited to "Geez" which would probably have worked just as well. I dislike references to religion in games too, buy that's another story.
I am slightly ashamed to say that I outside of work, I swear quite a lot, more from laziness than anything else, so it's not as if I have never heard these words.
And on the other hand, swearing in these types of situations is a natural reaction. Who wouldn't use that kind of language if you were being fired at and repressed by aliens?
There is also the very interesting point that isn't it a bit silly to be worrying about swearing when I am in fact killing other sentient beings? Which is worse; talk or actions? so, it's ok to kill, mutilate, burn, cut in half and completely fragment enemies, but no way can we use any expletives – bit silly really, don't you think?
For those that say it's just out of character, I see your point, but we haven't really seen enough of her to know how she reacts in all situations over a long period of time. Maybe, it's like guys who don't fart in front of women until they are really comfortable with them. You know what I am talking about, right? Maybe Alyx is the same, she's a wild gal but she is trying to impress you, you being Gordon of course.
On the same topic, Human Error was recently criticised by some for its use of "fuck". Some people felt that one particular section, where one of the characters said fuck about 15 times in 90 seconds was excessive. It was felt that it was bad writing. This is interesting, because I was always taught that people who swear lack the verbal skills to express themselves in a more eloquent and dignified way. Do you agree?
Time to vote.
The Poll