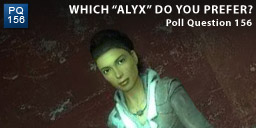 Have you ever noticed how different Alyx is in HL2, HL2: EP1 and HL2: EP2? I have to admit that I didn't until Jasper pointed it out to me and suggested this poll question.
Let's look a little closer, and these are Jasper's descriptions, so feel free to compare and contrast each Alyx with your observations.
In Half-Life 2, Alyx helped a little in combat situations and opened barriers to the way forward but was absent most of the time. She was also used to get to places before Gordon could. Also, arriving after the combat was done seemed to be one of her specialities. The drawback, for some, might be the long cut scenes involving her in long speeches.
The EP1 Alyx was very involved in combat situations but very often IN YOUR FACE and could often be a hindrance.
The EP2 Alyx was helpful in a few combat situations and not in your face at all. Also, with a good sense of humour. The ideal game companion?
It's observations like this that make me want to replay the games this summer and hopefully I'll notice other differences too.
My big problem is that I have never replayed any of the games and to be honest I can't remember the differences between each Alyx, but Jasper's descriptions do seem to match my very hazy memory.
So, which Alyx do you prefer and do you agree with Jasper's assessment?
In fact, while we are talking about it, why not tell me what you hope EP3 Alyx will be like.
The Poll