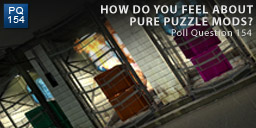 There has been some discussion on the forum about "the rise of puzzle mods". Personally I don't see that they are becoming more popular or being released more often.
Considering how long physics has been in the HL games, it's almost strange that we haven't had more pure puzzle mods. Ideally, I think 95% of players prefer a balance between action, exploring and puzzles, but the operative word is "balance" and for some 30% of each is too much.
I suppose we have always seen puzzles as being something to break up the action, to provide a period of build up and to allow the designer some fun. Now though, whole mods are being made and that is interesting.
In some ways, Arena maps could be considered pure action, and I certainly don't enjoy those too much. So, perhaps it comes down to the type of puzzles.
A comment was made that 2009 was the year of the "interesting" mod and modders are trying to break out of the confines of simple FPS action. Puzzle is just one gameplay style some modders are trying.
What is clear, is that we all have a choice whether to play or not play the mods and that must have some small effect on the modders building them. Back in August 2009 I asked Do you think the R & D mod will spawn more puzzles mods? At the time of writing this poll question 60% said Yes. But we still seem to be waiting for the results.
I believe there are better platforms and communities for creating puzzle mods than Source and the HL community. Players who really enjoy puzzles only need to do a web search for Flash games and can find some great puzzle games. The amount of effort that needs to go into pure puzzle mods, just doesn't seem to be worth it, based on the responses of players.
What do you think?
The Poll