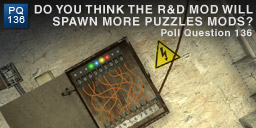 There's little doubt that Research & Development is one of the greatest mod ever made for any game. It's beautiful, thought provoking and fun to play.
In fact I think it's so good I started to wonder whether it would spawn "clone" mods. WIll other mod authors start to create similar mods? Maybe, but more importantly I hope it makes authors realize that puzzles can be so much more interesting.
So, do you think it will spawn more puzzles mods?
The Poll