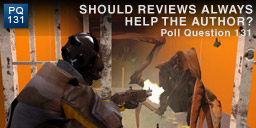 Let me clarify that this question is specifically is interested in community made maps and mods, not retail games, films or other forms of entertainment. Now, with that out of the way my answer is No. Reviews are reviews not feedback or beta testing responses. That said a lot can be learnt by the author if they listen carefully.
Target Audience
This is key. Who is the target audience of the review? In most cases it's other players, in some cases it's other mappers. In some aspects this question is closely related to Poll Question 129 – Do you prefer reviews by mappers or players?, but differs slightly.
On a recent broadcast of Podcast17 (I can't remember exactly which episode) NOPK was discussing his review of Neotokyo with William and the other guests. Although slightly off topic, NOPK argued that his review was to entertain not to inform and without getting into the specifics, I generally agree with this statement.
If I pay to read a review then my expectations can be different, but since all the reviews on PlanetPhillip are free, as are the things they review, the reviewer really can say almost anything they want. Clearly I run the site with an iron fist and if somebody reviewed a map or mod without even mentioning it or was particularly abusive then I wouldn't hesitate to delete it. My point? Reviews on PP are generally written for other players, not the mapper or author.
Not too long ago Kasperg mentioned a review of mine didn't provide him with any useful information. (I just want to say that I am using this example as a general example, not picking on Kasperg) I disagreed but by the time I got around to thinking about replying I thought it was too late. I disagreed because, in this particular case, I stated exactly what I didn't like, without saying how to improve it. Often saying you don't like something IS feedback to the author, as is the number of downloads a mod gets, plus lots of other information.
I believe a review should provide information to other players, to tell them whether they should download and play a map or mod or not, not to explicitly provide feedback to the author.
Ideally, both should occur, but that assumes the reviewer knows how to improve things. Some players know what they like but don't know why.
In some ways I feel a little presumptuous if I tell a mapper how to improve something. I currently can't map or code 0r model or do anything, so why should I tell mappers what to do? All I can do is give you my opinion, and sometimes explain why I have that opinion, and let the reader decide if they like the sound of the map or not.
What do you think?
The Poll