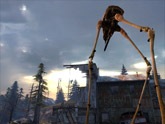 Favourite Enemies
I'm a manhack lover. WAIT! That didn't come out right. Allow me to rephrase that. I love fighting Manhacks. Of course not everybody does and I certainly prefer to have a projectile weapon to do it or the Gravity Gun. Here's this week's question:
What is your favourite type of Half-Life 2 enemy?
Each To Their Own
Everybody has a different preference and there is little doubt that if a game or mod only had one type of enemy it would be considered quite boring. I'm not disputing that but I am sure we all have a favourite type of enemy.
As I mentioned above I like Manhacks. For me the team at Valve produced something very special when they created Manhacks. There is a great feeling of anticipation when you here their whine as the scrape against a wall. They have the unrelenting quailty of all machines and they can come from almost any direction which keeps me alert and are not too difficult to destroy.
In fact I even wrote a story for them called Manhack Revolution. Maybe one day I'll make it into a mod, who knows.
Anyway, I'd like to hear why you prefer a particular enemy.
The Poll Questions