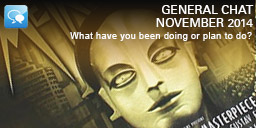 We had an incredible October here in the Basque Country (Euskadi) and the weather has been better than August. I'm not joking.
Work on the new theme is progressing nicely and I am currently adding the special pages and putting the finishing touches to the "table" page and something new called the "timeline". Integration with the Recommendation System is proving harder than expected. I'll be calling for beta testers in a few weeks.
Anyway, what's been happening with you? Hoping to play some new games this month?
I will be streaming Hard Reset from later today and you can follow my progress live on my Twitch channel and then on the YouTube channel for recorded playthroughs.
This Month's Sci-Fi Movie
In June, I started to use a poster from a classic Sci-Fi move as the background for the post image. This month it is from Metropolis (1927). "In a futuristic city sharply divided between the working class and the city planners, the son of the city's mastermind falls in love with a working class prophet who predicts the coming of a savior to mediate their differences." I have started to watch this once or twice, but always get interrupted. I am ill this weekend, so maybe it's the perfect time to download it and snuggle up on the sofa.