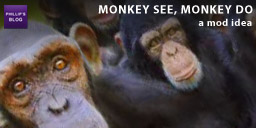 I am intrigued by the use of video games for uses other than entertainment. I've heard of treatment for arachnophobia with Unreal Tournament and I seem to remember something about vertigo too.
I have little doubt that lots of people have experimented with games for education, in fact there's at least one HL2 mod that attempts to teach science and history called DoomEd. If I were 25 years younger this would probably be one area of study I would have focused on.
2009
2009 seems to have been the year for the "alternative" mod, where instead of shooting, the player has other tasks to perform and reach a different objective than simply "beating" the game. Examples include Radiator and Dear Esther.
Whilst I haven't added them to the site, that doesn't mean I don't think the authors have done a great job and I highly recommend you try them. Anything that changes people's perspective of games and "First Person Shooter" games in particular has my humble approval.
Turing Test and Pattern Recognition
A while back I suggested a Turing Test for gamers, where the player had to guess whether the opponent he or she were playing was a human or not. I have a few other ideas in a similar vein and would like to present one to you now.
I would like to propose a mod that tests pattern recognition. Please allow me to set the scene with my crappy story writing and then discuss the details…..
The mod starts with a black screen with barely audible battle sounds. A bright flash of white light and a very loud crash interrupt your concentration. The player is standing in a semi-circle with a group of other City 17 Rebels. In front of them is the rebel commander. "Listen up people, your task in this semi-training exercise is to do EXACTLY as you are TOLD and SHOWN. Now separate, and go to your designated point. Good Luck!"
And so the mod starts.
Simon Says
So, what is the mod all about? It's basically a test, a test of your ability to watch and follow patterns. Think Simon Says on Steriods.
Want an Example? I thought you might….
You follow your squad leader into a small clearing, with some destroyed buildings surrounding you. A warning siren sounds and a wave of Manhacks can be heard approaching. You are told to wait in the corner where you can see all the action. A few manhacks suddenly appear overhead bu the squad leader doesn't shoot straight away. A second wave appear and he starts shooting. The wave is a very set pattern and the order of the kills important.
From one of the buildings come 3 Combine soldiers. The squad leader shoots the Elite Guard first and then the one carrying the shotgun and finally the last one. He then continues shooting at the remaining manhacks, who, by the way, have stayed in exact formation. These manhacks don't attack the squad leader, just fly overhead.
He comes running back to you and shouts "You got that, soldier?"
It's your turn and off you run into the centre of the clearing. As he said, good luck.
Easy Does It
If you don't get the exact order right, it just starts again, there's no death for failing, at least not at the beginning.
Now, in the early levels things happen exactly the way you saw them but in later levels the entrance of enemies change but the kill order must be the same. Don't think it's just in the simply clearing I describe but a host of indoor and outdoor situations.
The kind of patterns varying too. Maybe it's kill order or perhaps it's timing, but one thing is for sure, each new scenario is harder than the last. The patterns become harder and harder to distinguish.
One of the reasons I enjoy playing FPS games is that challenge of shooting moving targets. The manhack is perfect for that because it can move in any direction. Now, this mod uses shooting as the main gameplay mechanic, rather than simply pressing buttons or opening doors. But that doesn't mean it wouldn't include that, it's just that shooting is the main element of pattern.
Free Order
There are things happening all around you and you need to consider many aspects. Some elements are "free order", meaning it doesn't matter what order you kill or do them in. Of course, they will be subtly noted, if you are paying attention.
I envisage a very simple start but a truly epic final level that takes at least 15 minutes to complete, of course, that means you have to watch for 15 minutes, so a way needs to be found of condensing it somehow.
I don't want you to think that it's simply a case of more enemies each time either. That will be part of it but the enemies will become stronger, making it hard to accomplish the order.
So, what do you think?