Update: MapTap has been replaced by Gauge.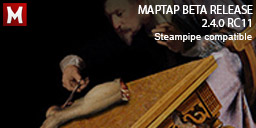 Here is beta version RC11, which addresses the Steampipe update.
I have tested this version and it worked correctly for me on a fresh install of Steam.
I will be using it all the time from now on to install and test maps and mods.
I am really hoping this one can be released and Alex and I can start planning the next update and what features we want to include.
RC stands for Release Candidate in case you were wondering.
Steampipe
Due to the way Steampipe works, there is no longer a need for MapTap to manage multiple Steam accounts. A popup message will appear the first time you run the application explaining that. There is at least one spelling mistake (stteam) and I may reword the message, so feel free to suggest
Feedback
I am looking for people to install and use the application and provide feedback on your experience. I need as much detail as possible, especially if you encounter a bug. We need to know exactly what you did, so we can try and replicate it.
Ideally, you would install maps and mods for a variety of games.
Feedback can be posted as a comment or you can send an email to me (plane[email protected]) and include as much information as possible.
DISCLAIMER
As with all beta release software, it may not work as expected. You accept ALL risk involved. Of course, we don't believe there will be any adverse affects, but it's still not our fault if something goes wrong.
It is only designed to work on Microsoft Windows.
Download the update
Download the update to your HDD [6.02MB]
You have read the disclaimer, haven't you?
Download the full installer
Download the full install to your HDD [10.9MB]
You have read the disclaimer, haven't you?
Thank You
If you decide to test it, thank you.
The Painting
I have decided to use various oil paintings as the images for MapTap posts and maybe even the release name. This painting is of Philip Verheyen, a Belgian surgeon by an unknown artist.