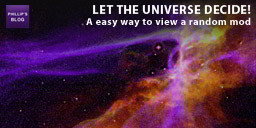 I'm always looking for ways to improve the usability of the site and add new features. One I have been trying to add for a while is a random map or mod.
In the past I had a project site, which required the creation of three screenshots and a new row in a database. It looked pretty but was more work.
I changed the way I wanted this random post presented and finally got my hands dirty with copying and pasting some code. After that it was just a case of fiddling with it until I got what I wanted.
It's now possible to view a random map or mod, either for every game covered on the site, or just for a specific game. The only game missing is Blue Shift since it only has one mod!
The links should be in the sidebar and below. Click on one of the links will display the full post, meaning you can download immediately or make a comment.
Simply refresh your browser to view another one in the same game.
Please add any feedback regarding this feature in the comments. Thank you.