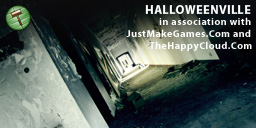 Time for something different.
In association with JustMakeGames.Com and TheHappyCloud.Com I am pleased to announce a PP mapping competition with a difference.
HalloweenVille is all about scariness and atmosphere.
The winner of the competition, is the level that is the scariest and most atmospheric. Your level can be a room, corridor, house or even a street, the choice is yours. Combat is NOT required, but is allowed.
It's all about scaring the pants off the judges. Levels can include any legal custom content and can use any version of Source.
The size of you level is NOT important – so don't make a big level thinking you have more chance of winning.
The level must allow the player to move about.
The winner will recieve a copy of Amnesia: The Dark Descent via the The Happy Cloud service.
Closing date is 11:59GMT 31st October 2011.
For all the details, please visit its project page: