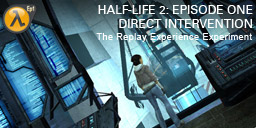 This chapter consists of Gordon Freeman entering the core to help slow down the meltdown.
Afterwards, they make their way to one of the still running Razor Trains and begin their journey to escape the city.
Later on, Gordon and Alyx are successful in re-engaging the reactor's containment system, delaying the explosion.
Alyx subsequently discovers that the Combine are trying to use the reaction, and therefore the destruction of the Citadel, to send a message to off-world Combine forces. There is also a message from Judith Mossman, from an Arctic environment north from City 17.
She is talking about a Project which she and her team had discovered, but the Combine attacks the base and she had to cut the transmission. She is able to run away, presumably to safety, before Combine troops, and an unknown enemy invade the area she had been filming in. Alyx makes a copy of the message packet to take to Dr. Kleiner and Eli, ensuring that the Combine make them their prime target and even in their disorganized state use everything they have to stop them.
Alyx and Gordon then board a Razor Train to escape the Citadel. It becomes apparent that the carriage Gordon and Alyx are in was being used to transport Stalkers. Alyx mourns for the Stalkers and is then interrupted by the train derailing, which wakes the Stalkers.
Trivia
This chapter contains possibly the fewest maps of any other, with only two: The Core and the Train Station.
Screenshots
Click on the thumbnails below to open a 1024 pixel wide image.
WARNING: The screenshots contain spoilers.
Achievements
I won't be covering the Episode One achievements in the same way as I did in the Half-Life 2 TREE event, because they are less chapter based. However, HLFallout.Net has an excellent guide that I can highly recommend.
The Replay Experience Experiment
This post is part of the The Replay Experience Experiment event. This is a chance to replay all the Half-Life games and discuss them based on our experiences since we first played them.
Hat Tip
The intro and trivia text are taken from the CombineOverWiki, a fan-supported, editable wiki covering the Half-Life series of games.
Walkthrough
On the left is a complete text walkthrough for Half-Life 2: Episode One.

It has been written by Stanley E. Dunigan and updated with all the tricks and tips from PlanetPhillip.Com readers.

It is in PDF format, meaning you can open it directly in modern browsers or download it and print it.

(Left-click to open and right-click to save)
Do Not Own This Game?
You can purchase Half-Life 2: Episode One directly through Steam and could be playing in within moments, depending on your internet connection.