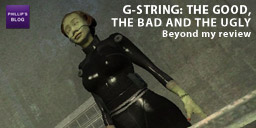 I'm torn. Torn between incredible admiration for such amazing work and frustration & disappointment with the outcome.
I started to write an article about how I felt G-String was bad for the community but then I realised that only presenting the negative aspects was unfair.
This article is not a review, that is on the Mod itself, but of course, I will be echoing some of the points I made. This article discusses the wider impact of the mod. It's a personal view and as such you may disagree.
Now, with that basic description out of the way, why is the mod good for the modding community.
The Good
If you haven't played G-String then you probably can't imagine how large the mod is. It is the longest mod I have ever played and probably longer than many games. Not only that it has been made by one young woman.
In addition, it's a total conversion with almost nothing left of Half-Life 2. I say "almost" because it's clearly built on top of the basic structure. For example, there are flying enemies that very closely resemble manhacks.
Please don't think that is an attempt at a veiled criticism, it's not. There's only so much that can be done if you use somebody else's game engine.
The environments are some of the most detailed and confusing I have ever played. The attention to detail is incredible and I am sure the technical aspects behind the curtain offer some very interesting ideas.
Now, I don't know exactly how long I took to finish the mod but it was easily in excess of 15 hours. That's 15 hours of free video gaming.
The author creates a compelling setting and everything about the mod adds to that setting. Goodness knows how many models and textures she had to create. And the important thing is that they all "fit" the theme perfectly.
It seems she was influenced by Blade Runner but with an Asian twist. Somebody should make a TV documentary about this mod because it really does set new standards in some areas.
So why isn't it actually being heralded everywhere? Well, that's what I talk about next.
The Bad
When new modders see and play G-String I have no doubt they will be incredibly motivated. Seeing what one person can do with such dedication and commitment can only inspire.
And that's the problem. For every "G-string-type mod" released there must be hundreds started and never finished.
Mods like this make modders believe they can also create something as spectacular as this and the reality is they can't. It takes a very special type of personality to spend 5 years behind closed doors making a mod of this depth.
By releasing something so big the author has given hope to many modders when instead they should be creating smaller more manageable mods. Learning from each release and improving as they get more experience.
They are too many over-ambitious mods started already and G-String may have started a few more.
Next, is the fact that there are a lot of things wrong with it. I know the mod was beta tested but I doubt it was tested early and often. I have the feeling that it was tested when it was nearly finished and I also believe that not all testes finished it.
I took months to finish it. Yes, my playing schedule is limited but a beta tester would have had to test it over and over again. By releasing the mod in the condition it was in the author has burnt her bridges. NO WAY am I going to replay the mod with the patch and I doubt most will.
I would love to know how many testing hours goes into one hour of gameplay for Valve games. Hundreds I would guess. Sure, that's hard for mod makers to do and for some stupid reason they believe that releasing mods as alphas and betas is the same as getting proper beta tests.
The mentally of normal players is not the same as beta testers. How many normal player replay sections over and over again? Almost none I would guess.
There used to be a phrase in the modding community that was bandied about by all. It goes "Release early and often." It's wrong. It should be "Test early and often". Releasing is NOT the same as testing.
Personally, I liked the slightly confusing routes – too often we only have one clear way to go and that takes the fun out of exploring. Of course, the other extreme of maze-like areas is no fun either, but for some reason I didn't have too much trouble finding where to go.
There were other things that got the mod negatives reviews, mine included; the widescreen format and the lack of crosshairs are the most obvious examples.
Essentially, the author created something amazing but with serious flaws. Flaws that should have been addressed very early in the design process.
The Ugly
Never, ever underestimate the impact of beauty on a project. Do you honestly think that the smartest women get to be on TV? No, it's generally the hot ones. Yes, they may be good at their job but I guarantee that if they were ugly they wouldn't be on the show.
The same goes for games and mods. Being in a depressing story, setting or environment fosters that emotion. There's only so much dystopia I can take before I become depressed.
At least with other mods or games I had a sense of optimism. I kinda knew that at some point Good would triumph over Evil. With G-String the greys and drab textures bring me down. There seemed to be no end to my suffering. No light at the end of the grey tunnel.
That's one of the reasons I couldn't play for too long – it was just too depressing.
From a technical point of view the levels and vistas within the game are amazing but players shouldn't be expected to see the art and skill from what is presented.
There's no doubt the setting has been carefully staged and the posters and environmental design all add to that setting, but I believe that the author has made a common modding mistake and forgotten to look at things through the players eyes.
If she hadn't created the mod, would she honestly want to spend 15 hours playing in such an emotionally draining setting?
Final Words
Many people asked how I could have made this my "Mod of the Year 2011" when it was so frustrating to play and look at. And I have to admit, I asked myself the same question.
The answer I keep coming back to is that if you put aside those few negative points, what you are left with is an amazing piece of work. Something that even at one tenth its size many modders would have been happy with calling their own.
To not have recognised this work would have been a travesty. But here is the crux.
i didn't actually enjoy playing it that much!
I wish to headcrab I hadn't have heard of it until after the patch was released, assuming the patch fixing the things that frustrated me.
There's little justice in the real world and our microcosm of modding is no different. The fact that this mod has gt so little publicity outside PP and ModDB is a shame, but it shouldn't take articles like this to convince the playing public of the merits of a mod – the mod itself should do that – and G-String didn't.
I suspect that modding historians will cite this mod as one that if the author had tweaked her process just a little she would have been hailed as the new Adam Foster.