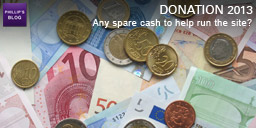 I dislike asking for donations for the site and haven't done it in a while. There was a time when the advertising brought in 30/40 US Dollars a month and that covered all the costs, but that has dropped to 7 US Dollars and the fund is running low.
The main reason I am asking is so I can upgrade the server. I was thinking of moving hosts because, let's be honest the site has been pretty flaky over the last few months. But whoever I move to there will always be issues. Unless I spent hundreds of Dollars a month on dedicated servers, I'm stuck with basic services and we have a phrase in English "Better the devil you know!"
My host recently created a specialist hosting service for WordPress, the software I use to run the site, but that's currently out of my price range (it's 20 US Dollars a month) but when speaking to a support rep, he mentioned the VPS starts at 15 US Dollars a month and is more flexible. It has less memory than the WP service but more than my current plan.
So, with a little help, I could upgrade to that and hopefully have more control over the resources of the site.
As much as I would love to go for the specialist WP service it would mean a commitment of 240 US Dollars a year and unless I had a donation drive twice a year, I wouldn't be able to pay for it from advertising alone. I'm interested to hear your thoughts on that.
Okay, so, if you enjoy using the site and can donate some spare cash that would be great. If not, don't worry, I fully understand.
If you have something other than cash you can help with; skills or games to donate, then please contact me.
Either way, thanks for using the site and reading this post.
Donation can be made via PayPal directly to [email protected] or use the widgets below: