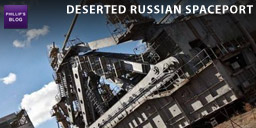 These images are not as spectacular as some of the others in the Real Themes category, but with a similar style to the first level of 99 Bolts: Chasing Winona (POC), I think it could make a great start to a mod.
Lots of glare from the sun, slowly reducing health due to the heat and exhaustion of the player. Plenty of places to explore, clear reason to encounter zombies and then inside the base, some Combine.
Lots of chances for the mapper to create puzzles to reach the higher parts of the area etc. This could be an interesting level for sure.
If anybody knows where this place is, please let me know.
Photographs
Click on the thumbnails below to open a 635 pixel wide image.