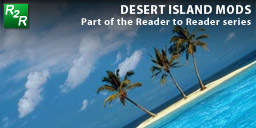 On BBC radio 4 is a show called Desert Island Discs where a personality comes on the show and has to select 8 pieces of music, one book and one item of luxury to have with them if they were stranded on a desert island.
They talk about each selection and what it means to them, why it's so important etc and it turns into an autobiographical chat.
Let's use that idea and have our own "Desert Island Mods".
Here are the rules:
1. Select up to 5 mods for any game, any genre, any system. It must have been released, so no imaginary mods please.
2. Select 2 books.
3. Select 2 CDs or pieces of music.
4. Select 1 item of luxury. We will follow their rules and state that it "must be inanimate and of no use in escaping the island or allowing communication from outside".
Don't rush to reply. Think about it carefully.
I'll add mine later this week.