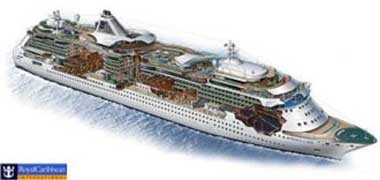 I'm always looking for level ideas, although I don't really build levels! Large buildings and vehicles interest me. Here are a couple of vehicles that may make great levels.
I found this image via February-7.
It got me thinking about how interesting it would be if it was a level for a game. I have been on the QE2, only a quick visit, but the ship has some very atmospheric places, along with some nice open areas for a fragfest. The acoustics aboard a ship also offer an ideal opportunity to create different moods.
It's possible that this could be used for a whole game, not just a level. It's not hard to create a simply story based around either an invasion or catastrophe, where the player either needs to escape or regain control of the ship. This leads me onto another point