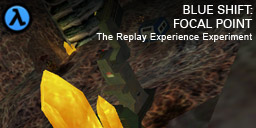 Barney Calhoun and Rosenberg reach an older part of the Black Mesa Research Facility where a disused teleporter system is being reassembled by scientists.
To make the teleporter completely operational, Calhoun is forced to travel to Xen and activate a device to allow teleportation to happen. Notable in the older part of the facility are older-looking models of health and HEV chargers and the use of hand scanners instead of retina scanners for identification.
The remainder of the game takes place in an abandoned, walled-up sector of the base originally built for research of the first teleporter device. Calhoun, Rosenberg, and two other scientists (Walter Bennet and Simmons) try to restart the prototype teleporter.
Calhoun is briefly teleported to a ruined human research camp on Xen to operate a triangulation device.
Trivia
The name of this chapter comes from physical term focal point. In optics, a focal point is the point at which initially collimated rays of light meet after passing through a convex lens or reflecting from a concave mirror.
Challenges
Some of these challenges may be mutually exclusive
Find the Chumtoad Nest.
Find an invisible floor.
Get on top of the crystal.
Find all 10 of the dead HEV scientists' ammo packs (Good luck!)
Phillip's Quiz Questions
None for this chapter – sorry.
The Poll
Screenshots
Click on the thumbnails below to open a 1024 pixel wide image.
WARNING: The screenshots contain spoilers.
The Replay Experience Experiment
This post is part of the The Replay Experience Experiment event. This is a chance to replay all the Half-Life games and discuss them based on our experiences since we first played them.
Hat Tip
All text taken from the CombineOverWiki, a fan-supported, editable wiki covering the Half-Life series of games.
Walkthrough
On the left is a complete text walkthrough for Half-Life: Blue Shift.

It has been written by Stanley E. Dunigan and updated with all the tricks and tips from PlanetPhillip.Com readers.

It is in PDF format, meaning you can open it directly in modern browsers or download it and print it.

(Left-click to open and right-click to save)
Do Not Own This Game?
You can purchase Half-Life: Blue Shift directly through Steam and could be playing in within moments, depending on your internet connection.