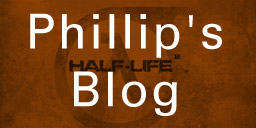 Let's think about this question carefully. How many adult theme parks are there?
(By adult I don't mean connected with sex)
There are plenty for children but none for adults. Sure you can go karting or paint ball with your mates but nothing on the scale of Disney World. That is until now!!
I propose that a consortium of multinational companies buy some desert land just outside of Las Vegas and build a mock Black Mesa. Army trucks collect you from your hotel in the city center and take you out to the base, where you are given instructions in how to use a HEV mark 4.
During your time there you have to chase enemies through the sewers-style systems, load the anomalous material etc etc. I mean just view the image on the left. How cool would it be to be running around there with some kind of paint ball gun either chasing somebody or being chased!
Of course you can't do everything in the game but there are plenty of things you could do. In many ways it would be like Westworld and how cool would that be?
It wouldn't cost that much to build, just plenty of concrete, rusty old iron and fifty trillion dollars developing some cool portal effects and real headcrabs.
Don't waste your time complaining to me about the insurance and the cost, this is Black Mesa GOD DAMNIT! Don't spoil the fun with cost-flow analysis and financial modeling.
Let's make a list of some of the rides or activities that should be available.