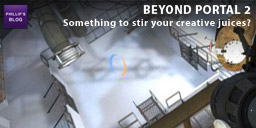 This article is not a review of Portal 2. That will be posted on a new part of the site eventually. This is an article ABOUT Portal 2.
This short article contains spoilers about the game and my upcoming review.
Let's get this over and done with…. I was a little disappointed with Portal 2. The beginning was okay, the middle fantastic and the end, mostly meh! with one "WOW, cool! moment.
Mostly through the game I kept saying to myself "I can't wait to see what modders do with these assets!". Notice I said "modders" because even though maps can be fantastic, I fear they will simply be "just" puzzles. Amazing puzzle, incredible puzzles, crafty puzzles, beautiful puzzles, devious puzzles and downright sneaky puzzle. But "just" puzzles.
They lack the deeper involvement. They are the "One night stands" of the sexual relationships. I'm looking for the "affairs" of the heart. The mods that sweep me off my feet with romance and passion! [Please note, I am neither condoning or condemning brief sexual encounters or unfaithfulness – just trying to use a colourful analogy].
For the first time I think it will be possible for modders to make a mod that is better than the game. Yes, that's a bold statement and there's a lot of depth to Portal 2, but I felt the story was weak, the script between Wheately and GLaDOS strained and laboured (Cave was perfect in script and VA – at least in my humble opinion). In fact, the whole game felt like a sequel that was made because of an obligation rather than passion.
Anyway, fingers crossed that in a year or less, we'll get some amazing mods. Let's hope that's just part of what gets created with Portal 2.
We've already seen the first machinima, called The Lonely Robot and we hope it's the first one many.
But, Portal wasn't a particularly fecund in that regard and that wasn't anybody's fault, because Valve don't make games with that in mind and the community can only use what they have or can build on. Portal 2 might offer our community something more and that's what also excites me.
As much as I love the games, I also love the creativity of the community. Let me offer you an idea of how Portal 2 could along you to create.
Below is an image taken from a Bit-Tech.Net forum thread. The OP, as you can see, ended up painting the whole area white. Pretty funny but also kinda cool.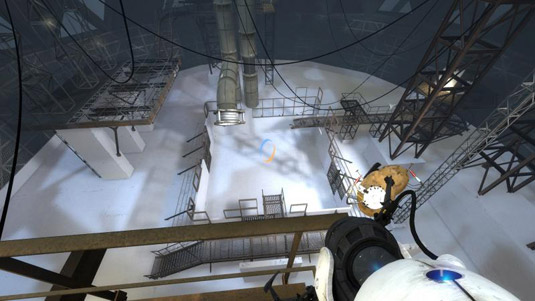 Howe long until we see Portal 2 Art? Yes, that's right, you heard it here first. Portal 2 Art. Capital A. Imagine mappers make some huge empty rooms with vents capable of spouting blue, white and orange gel. The player/painter, whatever you want to call yourself, can turn the vents on and off any time they want. They can position portals around the room to throw the gel into any position.
Next comes the coder, who with a few keystrokes, give the "playnter" (see what I did there?) more colours and perhaps even more control over the amount.
Keep going with the innovation and use the Excursion Funnel to throw the gel around and before you know it you have a virtual Jackson Pollock!
Okay, I admit that the long term market for Portal 2 Art is not looking good, but there's one idea for you.
How about some vintage Portal guns, with cool portal effects. Going back in time could provide plenty of opportunities, both from the gaming perspective AND other sorts of creations, don't you think?
So let's hope the community decides to get its teeth into Portal 2 and we could see some amazing creations.
Why not share your ideas for Beyond Portal 2 in the comments.