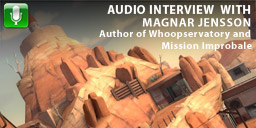 I was lucky enough to sit down and chat with Magnar Jenssen, the author of, amongst other things, Whoopservatory and Mission Improbable
We chat about how he got into level design and the industry, his mods, his process, the difference between making mods and retail games, plus a bunch of other things.
Magnar has agreed to follow this post, so if you have questions that I didn't ask, he may be able to answer them for you.
Enjoy!
Listen to the interview
Loading…