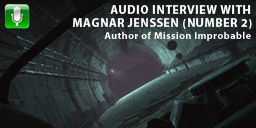 UPDATE: This audio interview has been transcribed by Sparks and is now available as a PDF file: magnar-jenssen-2nd-interview.pdf. Left click to open in your browser (if available) or right click to save to your computer.
With the recent release of Mission Improbable and let's not forget Whoopservatory, Magnar has cemented his position amongst the great SP Source modders.
In this second audio interview (the first is here), we mainly discuss the changes and new additions to Mission Improbable
Magnar has agreed to follow this post, so if you have questions that I didn't ask, he may be able to answer them for you.
Rick Underhill's site is called EditPoly.Net
This podcast was live-streamed to the Podcast17 YouTube channel and is available as a video on there.
Enjoy!
Listen to the podcast
Loading…