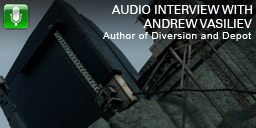 In this audio interview podcast I chat with Andrew Vasiliev AKA Lexxor about his mods Diversion and Depot.
We cover a few different topics, ranging from his start into modding and his future plans.
It's about thirty minutes and please remember that English is not Andrew's native language, so please forgive his pauses.
Listen to the interview
Loading…