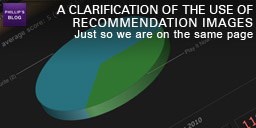 Just wanted to take a moment to clarify the use of Recommendation Images.
I believe some users haven't read the guide to using them and maybe don't fully understand the reasoning behind them.
Let me start by explaining why I created such a unique system.
I don't believe in simple rating systems. I don't think you can "score" creative work. Scores are for factual situations like sports or scientific results.
In addition, I don't take into account any rating system that allows anonymous rating. How can you trust such a system. The creator and his or her friends comes along and gets as many people as possible to give it a "thumbs up" or 5 stars. It's pointless to my mind.
What people actually want to know is whether it's worth their time to download and play something.
That is actually completely different from whether you enjoyed it or not!
And this is the crux of the misunderstanding.
There are many mods that I personally didn't enjoy that much, but I still gave it a "PLAY IT!" recommendation. Why? Because within that particular mod I recognize that it was well made or had some redeeming aspect. I still felt that most people should play it. That was my recommendation.
I might have hated the damn thing , but that's what the review text is for.
When you write a review, this is the way to detail your personal thoughts, impressions, likes, dislikes etc.
Here is an example: Nightmare House 2. Did I enjoy this mod? No, not really. Would I recommend you play it? Yes, especially if you like horror mods, but still "yes" even if you don't.
Why? Because it's a great mod, that I didn't enjoy.
Getting stuck at the beginning or the mod having no puzzles is NOT the reason to give something an "AVOID IT!".
That's what I need the readers to understand.
The colour coded recommendation images are a general guide to the readers' feelings but not a visual representation of whether they liked a map or mod or not.
Now, let me try to dispel one more misconception.
You CAN use a Recommendation Image even if you haven't reached the end of a mod. But, you must have finished playing, meaning you won't play any more and you MUST have given the mod a chance. You can't stop after ten minutes of a stealth mod and say "AVOID IT!" because you hate mod. Say "MAYBE" and explain your point of view.
Getting stuck early in a mod, is a common reason for wanting to give it an "AVOID IT!" or "THINK TWICE" recommendation, but often it's the players' fault not the mapper. Not always, but often.
A few times I've got stuck and had to ask for help and whilst I make a note of that for later reference it shouldn't be the basis of your choice of recommendation Image.
In summary, please try to separate your personal view from your recommendation. If you truly believe that readers should avoid a mod, then by all means add that image, but ask yourself if you are being objective.
Use the text to talk about what you thought of the mod.