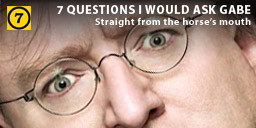 Okay, so here I am, sitting in an airport lounge, waiting for my flight and Gabe sits down next to me.
Me: "Hey, how you doing?"
Gabe "Good thanks, you?"
Me: "Yeah, not bad. Don't you just hate it when one minute you are delayed and the next cancelled?"
Gabe: "Don't get me started!"
Now, as you should have guessed, this didn't actually happen, but I prefer to imagine it like rather than some formal situation. Who wants to chat to people behind desks and in offices?
So, if I ever do meet Gabe in an airport lounge and it seems suitable, here are the questions I would ask him.
Below each main question are some follow up ones and maybe some explanation.
Now, I know that not that long ago podcast17 interviewed him, and some or all of these questions might have been asked already. If so, oh well.
And before you ask, no I wouldn't ask when Episode Three is coming. It's clear that they don't want to talk about it, and I am cool with that. When they are ready, they will tell us.
Number Seven: How much do you actually play the SP games before there are officially released?

I mean, do you wait until they are almost finished to get a feel for the whole thing or do you get involved right from the beginning? Has that changed over the years? Did you get involved in Opposing Force and Blue Shift?
We all have our roles within whatever organization we work for/within/with etc. Of course, when you are the boss you can stick your nose in everything. The question is just because you can, does that mean you should? I'm curious to know how involved he is within the actual development of each game.
Number Six: Would you ever split Steam from Valve?

We've all read pieces about how a developer shouldn't be a publisher. How Valve could abuse its position. All of that said, I don't see Valve abusing their position at all. They seem to give a fair shake to other developers and perhaps they actually make more money from Steam anyway – so why screw with that?
So, when I ask about splitting Steam from Valve, it's not because of any perceived wrongdoing, but whether it would be beneficial to both sides of the business.
How would that affect users? Would games get finished faster? I doubt it. To be honest, I personally can't see much benefit to me, as a regular user. Still, might be nice to know what he thinks.
Number Five: What one single moment from all of the HL games stands out in your mind?

Have to admit that's a hard one. I mean, there are so many moments we could talk about and actually, it's going to be another 7 Series article early next year.
But ONE. That's tough.
Perhaps I'd let him choose top 3 in no particular order. I'm curious to ask that to a number of Valve employees.
Number Four: How many non-Valve games do you play regularly?

Gotta assume he loves playing games. He can't play Valve games all the time, can he? I mean, only an idiot would do that, right? Wait, that sounds like me. Damn!
So, not only how many but does he try most of the new games published on Steam.
Wouldn't be too hard to have somebody download all games when they are released and play around for some time, just to get a feel for it.
Wouldn't you try every game if you had them?
Number Three: Do you replay any of the SP games?

Time to find out how hardcore he really is. I know a guy who replays the HL games every Summer. Now he is a professional developer he may have to stop that but there are plenty of people who do that. In fact, next year will be a Replay Event on PP.
Still, does make me wonder if Gabe and the Valve guys replay the games just for the sheer nostalgic thrill. Do modders replay their mods? Probably not, at least not if they were deeply involved with its development.
Number Two: What would you change about any of the games?

This is one of my stock questions now.
Imagine you could go back in time and change anything from any game. What would it/they be?
I suspect he wouldn't change much from Half-life 1. Although it might be nice to hear about Opposing Force and Blue Shift.
Half-Life 2 has gotta be pretty fixed too, but Ep1 and Ep2 might get changed. Perhaps he would combine them into Half-Life 3.
I also suspect Portal and Portal 2 would remain pretty fixed too.
Now that I think about it, there not much I would change in any of the games. Sure, maybe I didn't like some things but that's not a strong enough reason to change it.
Wow, how many mods could you say that about, let alone games? That is such a cool thing to be able to say.
Number One: How many mods do you play in a month?

Couldn't finish without asking him about mods, could I?
We have to assume that he plays a few, although maybe only the best ones or ones recommended to him.
I would also follow up by asking him his favourites and I am also keen to hear whether he completed Portal Prelude too.
Making the assumption that Valve keeps a close watch on the modding community, if for no other reason that to see what people do with the engines and assets, seems reasonable too.
Me: Well, nice chatting with you. Have a safe flight
Gabe: SECURITY! GET THIS GUY AWAY FROM ME