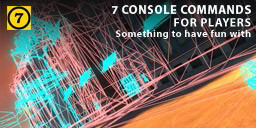 Think using the Console is only for developers? Think again. I contacted a few developers I know and asked for some suggestions that may be fun for players to try out.
I used A Walk in the Park for testing, which is where the screenshots come from. Of course, you can use any Source game or mod you want.
What is the Console?
The Command Console allows you to see a various information about the game and you can use it to change the way the game/engine behaves in real-time.
How to use the commands
To enable the command console, you will first need to go into the in-game options, and under the Keyboard tab, click the Advanced button and tick the 'Enable developer console' option. You can now open and close the console at any time by pressing the '~' key (the key under ESC).
To use a command, start playing the game, map or mod type it in and then press enter.
There are some very common commands, like noclip and god, which allow you to fly through everything and makes you almost invincible respectively, but I wanted to show you some other, hopefully more interesting ones.
If the commands don't work, try using sv_cheats 1 first.
If after playing around with the ones below you want to really explore the options, visit Valve Developer Community: Console Commands List.
So, now you know how to use them, let´s see what I´ve got to offer you and don't forget to add your own in the comments.
Number Seven: mat_wireframe 1

This replaces most things with a wireframe of everything. Fun for seeing through walls and stuff. The more complicated the level, the more lines you get.
Number Six: mat_fullbright x

This changes the brightness of a map. My screenhost below was taken with a figure of 5. Might not be much fun to play but certainly changes how dark maps look.
Number Five: cl_forwardspeed x

This changes the speed you can run at. The default is 450 so go crazy and try 1000 or if you really want a challenge try 200.
Number Four: fov xxx

The default for this is between 75 and 90. I used 150 and had a lot of fun. It's especially interesting when running. Look either up or down and it seems normal, look ahead and things become really weird.
Number Three: sv_infinite_aux_power 1

This command gives your suit infinite power. It means you can sprint forever. Like the cheats mentioned above this just makes playing a little boring. That said it might be a good compromise between completely cheating and winning with no help.
Number Two: phys_timescale x

x takes the number between 0 and goodness knows what. Basically, you control the speed of physics objects. A higher number means things move faster and a lower number things move slower.
The fun part is that everything else is moving at the same speed. Try picking up a barrel with the gravity gun, firing it into the air and run around to catch it. It takes a little getting used to as you must aim quite a way in front of moving targets.
Number One: host_timescale x

x takes the number between 0 and goodness knows what. Basically, you control time. 0.1 is a tenth of normal time and 2 is twice as fast. You can use decimals, so have some fun. This is perfect for getting great screenshots and also for some goofing around.
Screenshots
Click on the thumbnails below to open a 1024 pixel wide image. Not all commands are shown.
NOW GO TRY THEM!