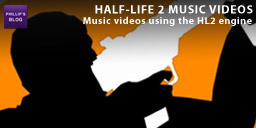 I love MTV. Unlike many, if not most of you, I was around when it first launched and was working in the fitness industry at the time. The hours we spent working out and watching MTV! Ahhh, the good ol days. Anyway, I love to just put the TV on and watch the vids whenever I get the chance, which isn't often and normally only when I get to stay in a hotel.
Half-Life has spawned a LOT of videos on YouTube and the like, but most aren't very good. I've decided to post 5 videos that use Half-Life 2. If yours didn't make the list, just comment and I'll take a look. I may post a part two next year.
They are in no particular order. So, let's get started.
Daydream by Byron Mallett AKA Mystfit
MUSIC: What a Day for a Daydream – The Lovin' Spoonful
DATE: 08 January 2009
LINK: YouTube

It's a trasvesty that at the time of writing it's only received 38,000 views. Compared to most of the crap that's on YouTube that gets hundreds of thousands of hits, this is a masterpiece. Anyway, it works so well because of the situation. Apparently the map can be downlaoded and "played".
Author's Comments:
"This is a machinima I did a while back, but left on my hard drive for a bit. I decided to finish it off and upload it rather than let it hide away from you guys.
I made this almost completely using Hammer and Half Life 2: Episode 1. The movie is a map file which runs from beginning to end almost completely automated.
Grab the map here – http://burning-water.com/files/daydreamrelease.rar
Extract this into your Half-Life 2 Episode 1\episodic folder and run the map ingame by typing "map daydreamtrackrelease" in the console. This doesn't work in OB games, so don't try running it in Gmod.
Hit the left button to start the singer off on his way, or hit the right button to watch the movie from the animated camera. To watch again, just reload the map.
For those interested, I've also included the vmf file. Since I was learning the entity system as I went along, don't expect it to be very tidy, but it can hopefully be of use to anyone wanting to learn how to do similar things in Hammer."
Ballad of Black Mesa
MUSIC: Ballad of Black Mesa
DATE: 25 February 2007
LINK: YouTube

Using sounds from the game and an Apple visual style, this video is so well edited. Hell, dancing Metrocops just rock. Made by www.litfusefilms.com. This is possibly the most viewed HL2 video around.
The Pyramid Song
MUSIC: The Pyramid Song – Radiohead
DATE: 21 June 2010
LINK: YouTube

I enjoyed this mainly for the video editing and scene selection. Personally I hate the song, but you could almost watch this with the sound off. Posting this reminds me I must watch the author's other videos.
Maybe tomorrow is a better day
MUSIC: Maybe tomorrow is a better day – Poets of the Fall
DATE: 15 May 2006
LINK: YouTube

This was made over 4 years ago, which is a long time in video style terms. Unlike a lot of other videos from that time, it's not just scene from within the game, but rather specially created scenes. Yes, there are some fighting scenes, but they seem to fit pretty well. Unlike some of the other songs used in many HL2 videos, I actually quite like this one but had never heard of the band or the song until now.
It goes on a bit long, which is good if you are enjoying it.
Taste The Cake by Ray Koefoed
LINK: YouTube

The interesting thing about this video is that it's completely original. The lyrics are funny and relevant. The video uses custom scenes as well as recordings from the game itself.
Author's Comments:
This is a music video to showcase the Valve game Portal. Despite the fact that the story in the lyrics of the song stray from what the game is really about, it does contain some spoilers. I left some of the most important content out (such as what happens if you don't die in the fire). This is to be the first of many videos I intend on making which will involve different genres of original music and will likely extend to other games in the future. I made this using Half-Life 2, Portals, Source SDK (Face Poser), and Garry's Mod. For the music I use FL Studio 8. I edited the skin to create the Aperture uniform on the citizen using Chell's texture. I am still new at making music, I will get better as I go. I hope you enjoy it.
That's All Folks!
Well, there you have them. Let me know if you enjoyed this style of post and if enough people like it, I'll create some more.