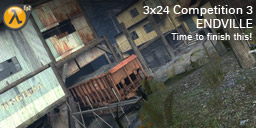 And so it continues.
This is the third and final competition of the 3×24 Mapping Competition Series.
It is unsurprisingly called EndVille.
Full details are below.
3×24 Introduction
This is the third and final part of a mapping competition series of 3 events, each lasting 24 days – that's 4 complete weekends.
Each competition has a detailed theme and had the possibility of each entrant continuing on from their previous entry or just submitting a stand alone entry.
There was approximately 8 weeks' break between each competition. The exact dates and times are below:
Competition 1: 11:00pm GMT Fri 11th January – 11:00pm GMT Sunday 3rd February
Competition 2: 11:00pm GMT Fri 12th April – 11:00pm GMT Sunday 5th May
Competition 3: 11:00pm GMT Fri 28th June – 11:00pm GMT Sunday 21st July
If a mapper enters all 3 competitions then they have the opportunity to polish all three entries and release as an updated mod.
The objective is to provide mappers with a global framework for a proper mod, with a beginning, a middle and an end.
Once the next competition has been announced, mappers are allowed to make small modifications to the end of their last entry, but nothing too significant. Larger changes will be allowed if they enter all 3 competitions.
To ensure that entrants didn't simple continue working on their mod, there are some thematic elements that provide additional design decisions. This made it difficult for them to simply create something and then try to "fit" it to the announced theme.
EndVille Theme Details
The map must start with a BANG! Assume that this part of the map is after the main section of a mod, where the player has just performed the "reason" for the mod. It continues with the player having whacked the bee hvie and all hell has broken lose.
Your objective is to GET THE HELL OUT OF THERE!
New entrants can start from a fresh area and invisible walls in the beginning will NOT be penalized.
It's not important HOW the mod finishes; the player can escape, can get captured or even die – it's up to you.
As mentioned above, in order to stop people creating their map "out of competition" time, the map must also include the following features:
1. The map must start with with the player learning where to go. How that happens is the mapper's choice. It doesn't have to be voice acting, so don't limit yourself.
2. One huge "drop" must be included, although don't think it means some difficult jumping section.
3. There should be plenty of exploding barrels.
4. There must be a least one secret area, either visibly obvious but difficult to reach or hidden in some way.
5. The ending should convey some emotion, so consider using a cut-scene and/or new music.
Standard 3×24 Rules
Maximum two maps per mapper per competition. (Updated from one)
The map must be original and not have been released publicly before.
The map must run in system with only Ep2 installed
By entering the competition you grant PlanetPhillip.Com the right to release the map as part of the 3×24 Mod.
Maps must not appear before the release and for one month after the release of the mod.
No assets from retail games other than HL2, HL2: Ep1 or HL2: Ep2 are allowed.
Other assets are allowed with written permission from their original authors, which MUST be included in the entry.
Phillip's decision is final and no correspondence will be entered into about it.
The map MUST have a proper name.
The map MUST have a proper filename: MapName_pp_3x24.bsp
All entries must be sent to: [email protected] no later than the deadline.
Special Notes
Mappers are encouraged to include freely available assets, including textures, models, sounds and music. This will help the map stand out from other entries. However, the actual experience is much more important than simply including lots of new stuff.
Final Words
I will announce prizes later.
As always, if you have any doubts or questions, please don't hesitate to ask.