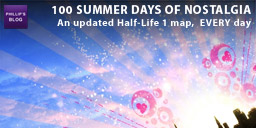 In celebration of Gilfrarry (Thanks man, can't thank you enough) reformatting and uploading all the Half-Life 1 maps and mods into my format and onto my server, I have decided to run the 100 SUMMER DAYS OF NOSTALGIA Starting 1st June and running for 100 days I will update a Half-Life 1 map or mod every day.
They will appear on the frontpage, but will eventually be back-dated to their original publication date.
I needed to update the posts anyway and this seems like a good way of doing it.
In addition, the top 5 commenters who post the most proper reviews & Recommendations for each of the maps and mods will be entered into a draw to win the next Half-Life release. Yes, I know we don't even know what it's called (Ep3 or HL3) but I have NO DOUBT it WILL be released, so feel comfortable offering this prize.
If Valve announce they are not releasing something then the winner can have a subsitute game.
I will decide what is or isn't a proper review, so don't think you can enter something like "Nice map" etc.
If it is succesful I may run a similar concept next Summer.
Please feel free to post your thoughts or comments.