"Were you the only ones on that train?
Overwatch stopped our train in the woods and took my husband for questioning. They said he'd be on the next train. I'm not sure when that was. They're being nice, though, letting me wait for him."
What happened to her husband? What happens to her? That is just one untold story and Half-Life 2 is full of untold stories. Stories that need telling. Stories that you should tell.
For this fan fiction event, I would like you to write a about any supporting character from Half-Life 2.
Your story must be no more than 1500 words.
The story can be serious, comedic, scary, light-hearted or whatever genre or combination you desire.
Quick Udpate
EDIT – DUE TO THE NATURE OF THE STORIES, THIS WILL NOT BE HAPPENING. SORRY.
Mr. Mazur has proposed making a map based on either the winning entry or the most suitable.
How cool is that?
So, if you want your story to be told in map format, now is your chance.
Let me know if you have any questions.
Read the Stories.
Left-clicking the link below will open the PDF report in your modern browser. Right-click, to have the option of saving it to your computer. It's approximately 255KB.
THIS IS THE UDPATED VERSION.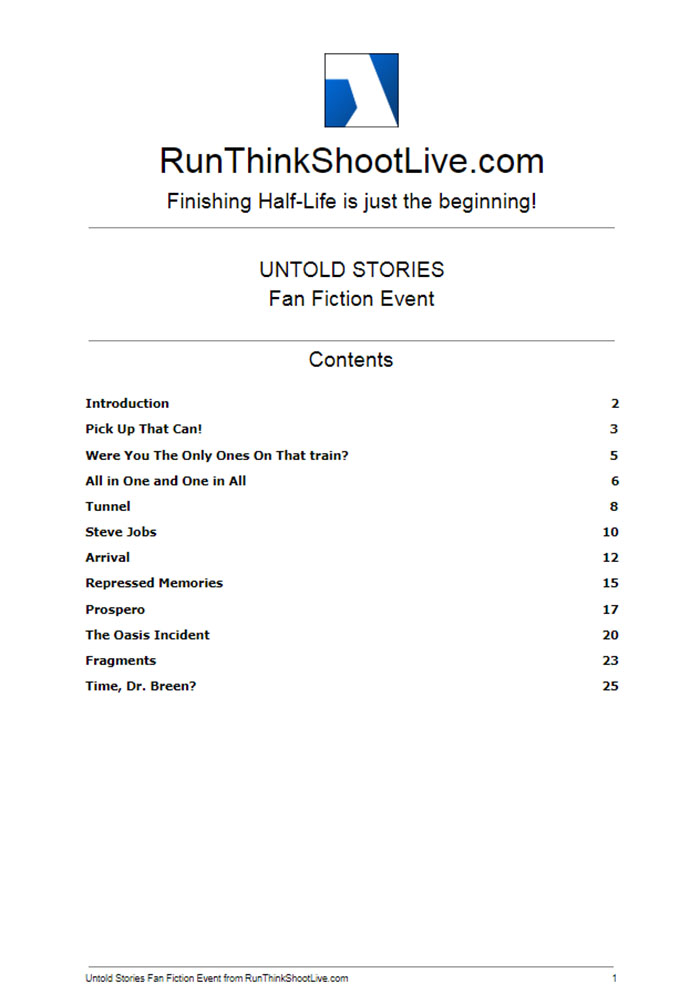 Prizes
I don't normally offer prizes for fan fiction events, but this time there will be 2 random Steam games on offer: one for the my favourite entry and one randomly selected entry. This means that just by entering you have a chance to win a game.
Phillip's Favourite
Sorry for the delay in posting this. After carefully reading the stories, I found my favourite to be Fragments. That said, there were some excellent entries and I want to mention Arrival. if I had time, I would try to turn this into a machinima with Niker, my collaborator on a recent machinima project. I feel it captured the theme brilliantly and the first part was excellent. I felt it lost its way in the second half and tried to add action when it didn't need it.
I will be sending a game to CherylBomb and Urby tomorrow.
Readers' Favourite
The poll closes on 19th June.
Select your 3 favourite reports.

What are your 3 favourite Untold Stories submissions?
Time, Dr. Breen? (19%, 10 Votes)
Fragments (4%, 2 Votes)
The Oasis Incident (13%, 7 Votes)
Prospero (15%, 8 Votes)
Repressed Memories (4%, 2 Votes)
Currently Untitled (4%, 2 Votes)
Steve Jobs (9%, 5 Votes)
Tunnel (13%, 7 Votes)
All in One and One in All (11%, 6 Votes)
Were You The Only Ones On That train? (4%, 2 Votes)
Pick Up That Can! (4%, 2 Votes)
Total Voters: 24

Loading ...
Entry Deadline
Please send your entry, via email, either as a txt attachment or even written in the email itself, to r[email protected], not later than 11:59pm GMT Monday 28th May 2018.
Rules
All entries must be Safe For Work.
All entries MUST be in English (sorry).
Authors may enter as many separate stories as they wish.
Phillip's decision is final regarding winners.
No purchase necessary.
Other weird rules may be added later.
Other Fan Fiction Events
I would like to encourage ALL readers to take a look at the previous Fan Fiction Events. There are some great entries in there.