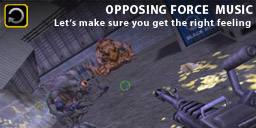 The Half-Life: Opposing Force soundtrack was composed by Chris Jensen. It was reused for the Half-Life: Blue Shift soundtrack. The Half-Life soundtrack by Kelly Bailey replaces the original one in the Steam releases of Opposing Force and Blue Shift.
However, it's easy to get the original back. Below is a file that contains all the music, along with isntructions of how to use it.
Here is part of the text from the readme_opfor.txt.
The files contained with readme_opfor.txt are taken from the Half-Life: Opposing Force CD.
The CD music tracks have been extracted to 128kbps MP3 format and have been renamed to work with a Steam Half-Life installation.
To use them in your installation you should copy the MP3 files into your Opposing Force folder –
e.g. C:/Valve/Steam/Steamapps/YOUR ACCOUNT INFO/opposing force/gearbox/media/
If your gearbox folder doesn't have a media folder, then create one and copy the files into there.
Quick thanks to Don for bringing this to my attention.