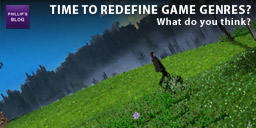 As I sat in the park yesterday soaking up the sunshine and wondering why everybody else was in the shade, Only mad dogs and Englishmen go out in the midday sun sprang to mind.
I almost became delirious and my mind began wondering why it was so hard to find certain types of games via the Steam Sale.
Now. it's not Valve or Steam's fault, it's just how the industry has not changed with the times.
We have had this idea of "First Person Shooter", or "Platform Puzzler" that is so fixed. It's time we recognize that things have changed and changed for the better.
Long gone are the days when a game had one gameplay style or feature.
So what do we do?
Well, I would suggest that we have two basic elements:
View and gameplay.
For view we could have FP: First person, TP: Third person, TD: Top Down, Side View: Side View and MP or MV: Multi-Perspective or Mutli-View.
Next we have the gameplay styles: Shooting, Driving, Puzzles, Roleplaying, Fighting and Abstract.
It would mean Half-Life 2 would go from First Person Shooter to FP: Shooting, puzzles and driving, which is a bit more complicated but definitely more descriptive.
If the industry and modding agreed to work to a new standard of describing games, we might be able to easily find games that interest us but also, and more importantly, find things that we might have overlooked.
Of course, my suggestion is not perfect, but this article is only to get the discussion started.
How would you like to reclassify games?
Imagine stolen from Robert Yang's bog about a game called P0nd