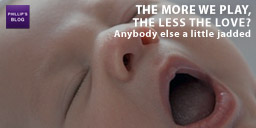 Okay, I'll be honest here, I'm not exactly sure I know what I am trying to say with this article, so I'll just write what I think I mean and see what happens.
A little while ago, I watched a TV show and somebody said something like… "Studies have shown that the more sexual partners you have, the less happy you are with your final partner".
"Mmm.." I thought. I wonder if that is true. After the show finished, I Googled for a while, using different search terms and found one paper that seemed to agree with the statement.
Now, don't worry, this article is not about sex or the number of partners, but about games and the number of games we have played.
Remember, the gaming industry is fairly new, at least when compared with other forms of entertainment: films and books. So, it's hard to draw any definitive conclusions. Couple that with the fact that most gamers have grown up with video games as part of their lives, whereas people my age and older didn't have the same exposure in our youth.
Where is all this going? Well, I am wondering whether the more games we play the more we become blasé them.
I remember being impressed, excited, intrigued, delighted by some many games when I first started playing them. Now, I'm rarely interested in what's coming out.
"Poppycock!" I hear you cry. Well, maybe, but we should at least consider it.
There's little doubt that games are getting better, but is that only because of technology? I don't think so. Minecraft and indie games would be used to argue against that. At first glance it would be obvious. But isn't that success due to the new technology that allows more people to use their creativity to make games.
Technology isn't just graphics, it's a whole bunch of things: AI, editing etc
Making games used to be a lot harder than it is now. Everything related to computing used to be harder.
Let's turn to books for a moment. I, like most people, have been reading for most of my life. Do books get worse as I get older? So does that mean that the books I read are getting less interesting? No, of course not, but that's an unfair comparison.
Okay, I've got a little off-track here, sorry.
Books, at least the ones I read, contain 26 letters combined into words that use certain rules to create language and therefore meaning.
English hasn't changed for many, many years. It's the combination of those letters that make the books interesting.
I would certainly admit that as I have got older, the types of books and films that interest me have changed. Initially, I hated Asimov for what I thought were his foolish references to things like "tape" and other items that were realities a hundred years before their fictional counterpart. I felt that he lacked vision. Of course, I have come to realise that he is a master story teller, using science-fiction as his tool, rather than for its own sake.
My point is that as I became older and hopefully a fraction wiser, my tastes changed. Will the same happen to my gaming? Is it purely because of my age or was it the accumulated experience?
If that was the case, if I had started reading Asimov earlier would I have come back to him earlier? Did I need to read all those other authors before I could truly appreciate him?
Gaming is continually trying to find the next best gimmick, but books just rely on interesting combinations of just 26 symbols. Yes, that's an over-simplification and comparing letters to gaming will get us nowhere, but instead of always looking for "better" perhaps we should be looking for "different" or "interesting".
I suppose it would be easy to guess that I am talking about "Art mods" here, but I'm not.
I often wonder what would happen if developers stopped trying to create "new" and just gave us "more". I would honestly love it if Valve sub-contracted some smaller developers to make 10 more games based on the HL world. But I am almost alone in this.
Even developers want to move on. Valve could have created more of the same after Half-Life 2 but they wanted to push the boundaries again.
Could my obsession with "more" be the excuse for this website?
I've mentioned before my musical idiosyncrasy of playing the same piece of music over and over. I remember, as a teenager, I had one track repeated on one side of a cassette and on the other I had the remix version.
I wore that tape out. Even my friends hated visiting me because they hated that song. There a special feeling that comes from familiarity.
When you are younger, the idea of spending your life with one woman was scary. Think of all the "strange" out there! "So many women,so little time".
But making a connection that lasts has its own pleasures.
Patrick ranted on Podcast 17: Episode 161 about hating the idea of playing the Seven Hour War because he knew what the outcome would be. I believe he has completely missed the point, but I put that down to his youth. It's not about the destination, but the journey.
We all know that when we play a game, we can "beat it" if we really want to. We know that good will overcome evil. We know the outcome.
But does that stop it being fun?
To go back to the idea of new for a moment.
How often is anything really new? Not often. Most TV shows are rehashes of other basic stories and settings.
Using all the assets that Valve created for the HL series, plus maybe a few new characters, we could have some fantastic fun. Look at the quality of some mods. You don't always have to introduce something new for it to be fun.
Perhaps I have gone off-track again. I did say I wasn't exactly sure where I was going with this, didn't I?
That said, I think for me it's close to how I feel about many things. I have been corresponding with Robert Yang about "art mods" recently, and one thing I told him was that I didn't like trying new things. It's how I am with many things in my life. But of course, I am human and therefore a contradiction. I changed countries and cultures with less worry than most people change jobs.
When I hear of new TV shows that sound interesting I am almost invariably disappointed. I would rather a TV show I like continue for 10 seasons than see something new. It's the same for food, books and films (and probably other things I can't think of)
Perhaps I am hard to please, I don't know. But I do know that the more games I try the less I am impressed.
Indie games and Alt mods are breaking new ground and that's great. It's not as if there hasn't been creativity in gaming all these years, it's just that the commercial aspects have changed.
It's easier for individuals to make a game and get it out to a lot of players.
Will that be enough to stop feeling jaded? Maybe in the short term.
I don't know, what do you think? Is gaming getting less exciting as the years go by?