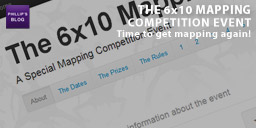 I am pleased to announce the 6×10 Mapping Competitions Event.
This is a mapping Competition Event that will run through the Summer and in Autumn.
Here are the highlights:
The event will consist of 6 competitions.
Each competition will start on the first Friday of each month.
Each competition lasts 10 days.
The dates are below, meaning you can plan your competition mapping schedule around your long-term projects.
The theme for each competition will be posted at 6:00pm on the day the competition starts.
Each theme will have as much detail as possible, along with exactly how it will be judged.
Entrants are limited to one map per competition.
Maps must run under Half-Life 2: Episode Two.
There will be one prize for each competition.
The event will use a points system.
There will be a overall prize at the end of the 6 competitions, based on the points system.
I know some people won't be happy but I had to try something new.
I will be posting this on as many forums as I can think of, but if you are a regular user of a site please feel free to post details about it.
There is time to make small adjustment to the event, so if you have any ideas or suggestion please post them immediately or forever hold your peace.