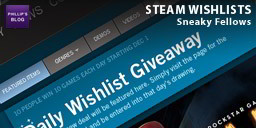 This is an off-the-cuff article, that is to say I am basically writing it with no research and no drafts. What you get is the first thing that comes out my head and I am in a hurry!
I love Steam. It's made my life so much easier. Partly because I hate DVDs or CDs and partly because of all the other features. Sure, there are some things I HATE about it, but everything in life is a compromise.
Anyway, one of those features is the Wishlist. When somebody does something nice for me I sometimes buy them a game from their wishlist.
It's an easy way to thank them without embarrassing them by asking what game they would like. Of course, Valve didn't invent them and I have been using my Amazon Wishlist for years(If anybody wants to thank me 😉 )
It clearly helps their business. But how does having 10 games or more on a list help them? I am asking that questions because Valve recently started their Daily Wishlist Giveaway. Every day, 10 people get a game of the day if they enter the draw AND have at least 10 games on their wishlist.
I suppose that it means the more games on people's wishlists, the more games people buy for those people.
It's incredibly clever on Valve's part – gotta respect that. They are really leveraging their delivery platform.
So, it's not a proper poll question but who has added games just to enter the giveaway?
And do you have any other ideas why they want you to have 10 games on our wishlists?