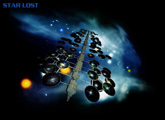 Introduction
Starlost of a one-series Sci- Fi show from the early 1970s. The basic concept was quite simple. Planet Earth was nearly destroyed by a "disaster of Galactic proportions!" (Although I don't believe we ever learn what this disaster was). Humanity decides to build an Ark to ensure its survival. The Ark is a huge space ship hundreds of miles long.
Attached to it are many "Biospheres" each containing a different culture. However as in all classic sci-fi shows disaster strikes again. The ship is damaged and the main crew are killed. The ship slowly drifts off course and is heading for a class G star. (Cue "da da daa" sound!). In one biosphere Devon is due to be stoned to death for not believing in the powers that be and manages to escape through the "door through which none returns". This door leads simply to the connecting corridors between the main part of the ship and the other biospheres. He begins exploring and finds out the truth about the Ark and the collision course (Again cue "da da daa" sound!). He returns to his biosphere to collect his "Girl" but is followed by his rival for the "Girl". To cut a long story short, the three on them spend the next sixteen episodes going from one biosphere to another looking for help to stop the collision.
Are you Serious?
At the time of writing this I have only managed to find and download (Naughty I know) about six episodes. Remember this show is over thirty years old and the concept was considered pretty cool back then. To be honest if the production values and cliched script weren't so bad it would make a good show.
So What? You say
Well, think about it. It's a good premise for a Sci- Fi FPS game. Each level is a different biosphere and you need to work your way to the ship's bridge to change course. The route you take could be completely non-linear and the game would ensure you simply visited all the biospheres before you could access the bridge. Each biosphere could have different weapons, enemies, gravity etc etc.
The main ship could provide the final level with the bridge defence acting as the boss. Community made levels would fit easily into the story and there would be plenty of scope for different types of gameplay.
Resources
For those sci-fi aficionados you can find a few links below. It has quite an interesting story and history behind it, and is well worth a look if you at all keen on sci-fi.