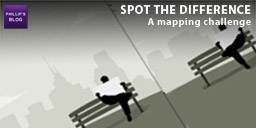 Art mods, Alt mods, Creative mods call them what you will, they have become more popular recently.
Whilst I am not a big fan of them, I recognise and applaud the creativity involved.
Using game engines for things other than gaming is certainly not new and and the more we explore possible uses the more interesting things get.
Recently I have been thinking about a possible use with two almost extreme implementations. They may sound silly, in fact they may actually "be" silly, but sometimes the process of defining and discussing them brings their own rewards.
The Easy One: Spot the difference
We've all played or at least seen those two images on the "coffee Break" pages of newspapers and magazines. Normally there are 7 differences that must be found. In the magazine that my girlfriend occasionally buys the differences are insultingly obvious, but in rare cases those difference can be quite a challenge.
What if a mapper decided to make map versions of that basic principle? Depending on the size and complexity of the map that could be a real challenge! Using a map format would allow the creator a number of options clearly not available to the creator of a simple 2D image. Not only would the map be 4D (3 dimensions plus time) but there would be the added element of the interaction of the player with the environment.
Let me be clear, I am not thinking of simple rooms across a hallway that the player goes between and looks for slight difference, I am talking about something where the player has to shoot stuff at the same time as look for difference in more than just a simple room.
I'll be honest, getting the balance right might be too difficult and as I said earlier, make the whole thing silly. Making it almost impossible would be very easy it seems to me.
It could be as simple as throwing 5 instead of 6 army grunts at you, which during the heat of the battle could be easily missed, especially if the player is "on a rail" or similar.
I considered making this a mapping Ville competition but feel that it's too specialised for a general competition.
The Not so Easy One: Bongard Problems
So if the basic two "things" idea is the simple one, what is the hard one? Bongard Problems, that's what. I am guessing that 99% of readers have never heard of them, unless my readership is much more academic than I thought! Put simply, the Bongard problems are two pairs of six examples. The six on the left all follow the same pattern, whereas the six on the right don't. The objective is to identify the pattern. I found them quite hard but still intriguing.
Now, making an exact copy of Bongard problems in game engines might not be too hard but as you might have guessed I want action too. Maybe it could work something like this….
Start with map A, which contains 3 distinct encounters within its setting. Each encounter lasts no more than a couple of minutes. Like all maps and mods, they can be replayed as many times as you want. When ready you load map B, which also contains 3 distinct encounters but they don't follow the pattern set by the first 3. Objective? To define the pattern. Ready for the answer? Open map C for either commentary or maybe a video explaining the difference.
Patterns I image could be used, would be: enemies attack in odd numbers only, distinct progression of enemies from Headcrabs to Elite guards, Only right angles on all streets, paths, walkways. Of course, I am pulling these ideas out my arse as I write and with some thought I am sure you could make them much more interesting.
Now I know that most of my readers are not mappers, but I would be interested to hear:
A: your ideas for how both ideas above could work and be implemented
B: your ideas for other non-traditional uses of game engines
So, there you have it. Take a common idea and tweak and twist it a bit and make a mini-mod out of it.
I challenge mappers to make proof of concept maps for the above. They don't need fancy layouts or lighting at this stage, just maps to show that it can be done. Unless the actual pattern requires textures, make them orange dev first.