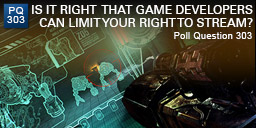 I tuned into a Twitch live stream last night for a few minutes and there were two guys playing Half-Life Decay.
At the bottom of the screen was a notice that said something like "Streaming games in North America before their official release date could be a violation of the Terms of Agreement…".
I have to admit I hadn't thought about anything like that before and wondered how fair that was – to both parties.
It seems to me that the developers do have rights, but surely letting players see the games first is a free way of advertising.
It also raises the issue of why there are different release dates around the world. Can't these guys just release it every where at the same time? What are the commercial considerations for staggered launches? Now many things can be digitized it's hard for the average consumer to understand.
I'd love to hear your thoughts.