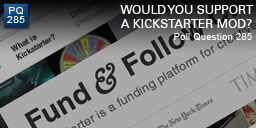 In case you don't know, Kickstarter is a website that allows people to raise money for projects. Elite Dangerous is a good example. it's been on the news a bit recently.
"Donators" get special "rewards" for pledging different amounts of money. It's actually a really clever idea, or it was right at the beginning.
With so many people looking to get your money that "Special" feeling has been lost.
Now, most of the projects on the site, and there are other sites that do the same thing, are businesses and that's cool, but there are also some that are not.
So, let me give you a very specific example for this poll.
Imagine I created a project called "The 7-Hour War". I would make a mod using Source 2, a little while after the release of Half-Life 3 and I would pay the community to make the mod. Of course, I would plan and design it very carefully, including story consultation and concept art.
The project would last one year, finish or not and then be released. Play time would be just over 7 hours and it would introduce new characters and maybe weapons.
I would use some of the money to fund the production and the rest would go to the people who did the actual work. At the end of the year the mod would be released for free.
This poll question is asking about the general concept of financially supporting a free mod. The above is t give you an example and I am not actually seriously considering doing it – unless you pledged $50,000 and then I probably would.
With the release of Black Mesa, this question may seem moot but I don't believe we will ever see anything like that again. Yes there are some great Source mods in production but the 7-Hour war expansion is begging to be made and new tech would be hook.
Anyway, I'd love to hear your thoughts.
Time to vote