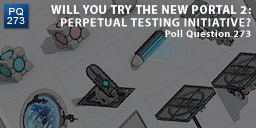 Five years ago I wrote an article called Hammer Made Easy, asking for more or less what Valve are releasing in a few days.
I don't claim to have been the first to ask for it, and definitely not the last, but it's pretty damn cool to see it finally arrive.
The biggest problem will be finding the good ones to play and I am sure some gems will be overlooked.
Anyway, I wonder whether this will be the start of new mapping endeavours for a number of new mappers?
It's clear that Portal 2 was the perfect option for the initial release but I am not convinced it's the right one in the long term. I suspect that the kind of people who want to make portal puzzles are already doing it. Yes, they may continue using this and the fully fledged Hammer and it will introduce a lot of new mappers but would those mappers have learnt Hammer anyway?
It's whether it can be adapted for Half-Life games, that's the really interesting thing for me.
I believe the mentally required for making puzzles is very different from making action games. Yes, of course, some people can do both, but they are rare.
If the editor allowed you to create the basics and then export for more detail control that might be the perfect solution.
Time to Vote!