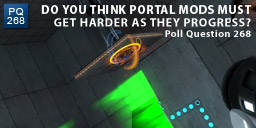 It might seem such an obvious answer but I don't think they should.
Here is how my thinking goes…
Regular first person shooters don't always get harder as the game or mod progresses.
They tend to get more complicated, because you get better weapons, which means the enemies get bigger or harder. But that in itself doesn't mean the game is harder.
I certainly didn't feel any of the HL series got harder the further I played.
I am pretty sure that if you ignored the story and location progression, you could pick any point of the game and it would be the same difficulty.
Sure, they are "BOSS" areas and a final challenge, but I see those things differently.
For many things we like an increase in difficulty over a longer period of time. If the level I am playing at is challenging, there's no need to make it harder.
Harder doesn't mean better or more fun
Yes, I admit there is a greater feeling of accomplishment if the game or mod is harder, but playing something at the same level can be fun too.
The key is having the right level to begin with.
Just because both Portal games had clear difficulty progression doesn't mean mods have to. It's one of the things that dissuades me from many Portal mods. I am happliy playing and suddenly the difficulty gets ramped up, either by complexity of puzzle or by skilled jumps required and I lose interest.
Why couldn't it just keep going at the same level?
Making the chambers fun and interesting to look at is enough for me. I don't feel the need to beat the hardest chambers.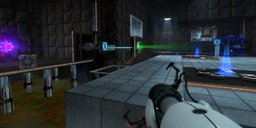 What brought this on, you ask?
Well, I have been playing an absolutely fantastic Portal mod, called Rexaura which hasn't got nearly enough attention as it deserves.
It has interesting new mechanics, is well built and fun to play.
Now, don't think I am complaining about this mod, but I got stuck on Chamber 16 from 19 and started to worry I wouldn't finish it. Sometimes solutions just don't come easily, and the following chamber is a breeze.
I had to view a walkthrough for number 16, but hopefully I can figure out the rest. Oh, and I got lucky on Chamber 11 too.
Anyway, go play Rexaura, review it and let me know your thoughts about this question.
Time to Vote!